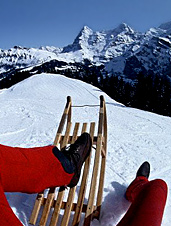 Every four years, you dream of joining an athletic challenge so gripping, so alluring that the world would stop everything just to gaze upon your athletic prowess, and Grecian beauties would bestow you with golden medals for your feats of unmatched strength.  
But since that's not going to happen, we'd like to tell you about the next best thing: the best place in the entire world to sled down a mountain.  
Welcome to the
Wildkogel Rodelbahn,
8.7 miles of dedicated tobogganing bliss—complete with hairpin turns, a dedicated ski lift and an ale house along the way—now awaiting you and your trusty sleigh.  
In short, it's the grown-up version of your 10-year-old self's biggest fantasy: hurtling down a mountain's worth of slopes on a runner sled just inches off the ground. On one side, you'll have a towering Alpine peak; on the other side, a frighteningly steep drop-off. (Our advice: hold on tight to Rosebud.)  
The full course can take anywhere from 20 minutes to an hour, depending on your ability, endurance and chutzpah. But if all the white-knuckle sledding gives you a thirst for Swiss beer—and frankly, we don't see how it wouldn't—you may want to stop halfway through for a round or two (and an in-depth discussion of proper form) at the slopeside tavern before tackling the second half of the run in a more fearless (if slightly dizzier) state.  
Which should get you through until après-sledding.