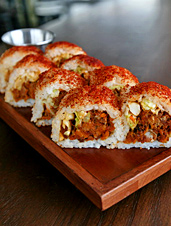 You've always felt that very little in life couldn't be improved with a bit of barbecue. Backyard parties. Business meetings. And now...sushi.
Introducing
Red Neck Rolls,
a mind-blowing mélange of barbecue and sticky rice, now available at Smoke't in Coral Gables.
Now, we know what you're thinking: this sounds like something your drunk college roommate would create after a night of sake bombs. But the mastermind behind this cross-cultural innovation is the upscale roadhouse's chef, Michael Altman. (Altman's an alum of Charlie Palmer's Aureole, so you know there's a method to the madness.)
There are four different types available, but we'd like to draw your attention to the slightly sweet pulled-pork roll. (Note: the musky brisket roll is a close second.)
To make the finger-lickin' finger food, they start by combining Carolina-style pulled pork that's been slow-roasted and seasoned with apple cider vinegar, giving it faint fruity undertones. The shredded meat is doused with barbecue sauce and then wrapped with coleslaw for the ultimate creamy-crunchy finish.
The rolls are best enjoyed in the cavernous restaurant's lounge area, where you'll order up a craft brew like Monk in the Trunk and a platter of these snacks while watching the game on the massive flat-screens...
This doesn't bode well for nachos.