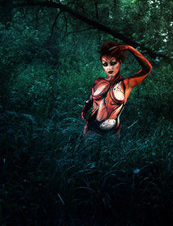 We're not critics, but we know good art when we see it. Enigmatic smiles. Well-arranged fruit bowls. A fire-breathing dragon ridden by Burt Reynolds high-fiving a dolphin—all airbrushed onto a cocktail waitress's naked back.
Today, we'd like to focus on that last one.
Get ready for the first ever
North American Body Painting Championship,
a celebration of fine art at its finest, kicking off today at the Flamingo.
In short, it's a three-day feast of hedonism, airbrushing and the glorious canvas that is the human body, with more than a hundred artisans on hand, plying their trade on models clad in the bare minimum of pasties and G-strings. (Note: despite the "North American" tag, the talent comes from as far away as Russia and Israel, making it the body art equivalent of the Olympics.)
Once the masterpieces are complete, the work will be judged by a seven-member panel headed up by the reigning world champions, flown in straight from Austria. (Where this sort of thing happens every weekend.) But unless you've got money on it, we recommend heading straight to the after-party at a club down the street (Voodoo, Rain or Jet, depending on the night), where the 140 functionally naked contestants will be sipping vodka and putting their water-based paint costumes to the test as they gyrate to the likes of noted body paint enthusiast Paul Oakenfold.
Here's hoping the costumes don't pass the test.