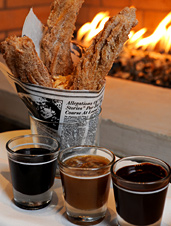 After a long week like this, you're due for a treat.
Preferably one involving Spanish doughnuts. Oh yeah, and deep-fried pork skins.
Yes, you read that right—as if by fate, two of the world's most gluttonous snack foods have collided in a surprisingly elegant new off-the-menu item, available starting tomorrow inside the Back Bay Hotel. Ladies and gentlemen, put your hands together for
Pork Rind Churros
.
Think of them as Homer Simpson's food dream finally realized. The magic starts when chefs take flour-based dough used in traditional Spanish churros and mix in savory Vermont pork fat cured for three days with butter, crushed chilies and spices, and then grind up actual homemade fried pork rinds to complete the awesomeness.
You'll receive three to four thick churros in your basket, dusted with cinnamon and sugar, and sprinkled with an array of fresh pork rinds for effect (so to review, that's pork-rind-filled churros...with a side of pork rinds).
And because no churro is complete without a little lubrication, they come with three sauces, including
Spicy Chocolate
(using Taza chocolate) and
Foie Gras Caramel,
a salty-sweet option which may cause you to abandon the thought of using coffee as a dip ever again.
We look forward to a world where foie gras caramel is on every breakfast table in America.