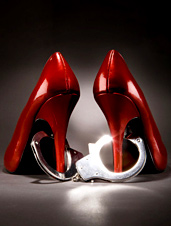 You're a normal person.
80% clean, 20% kinky. Okay, maybe 70/30.
So sometimes a regular Friday night at the bars just isn't what the doctor ordered. And by doctor, we mean a dominatrix who's into bondage and pole dancing (and might not actually be a full-fledged doctor, however proficient she may be with rubber gloves).
All of which is to say this: on Friday, two days before V-Day, you'll want to limber up for
Sex! Toys! Love!,
a groundbreaking one-day pop-up event (emphasis on
pop-up
) taking place at the Boldfacers.com studio in Fort Point Channel.
If the best of Amsterdam's hallowed Red Light District converged on Boston for a night, you would get something akin to S!T!L! (minus the Euro-punk music and windmill-shaped dildos). The first thing you'll want to do is grab a drink at the bar (if you mention UD on your way in, the first round's on them) and make your way over to the bondage demonstration, where they'll be showing you how to properly secure an appendage to a bedpost (we recommend a nice Windsor knot).
Next, you'll bask in the art of the pole dance, courtesy of an instructor who's logged hundreds of hours in some of the country's finest exotic-dance establishments (and has the wrinkled dollar bills to prove it).
Now, we realize some of this may be a bit more
Real Sex Episode 29
than you're used to. It's not every day that you bump into a leather-clad auctioneer whose assistant is also her leash-bound sex slave. But keep in mind that there will also be custom fragrances, flowers and kinky goody baskets on the auction block that you can bid on.
In many ways, it's a lot like Sotheby's.