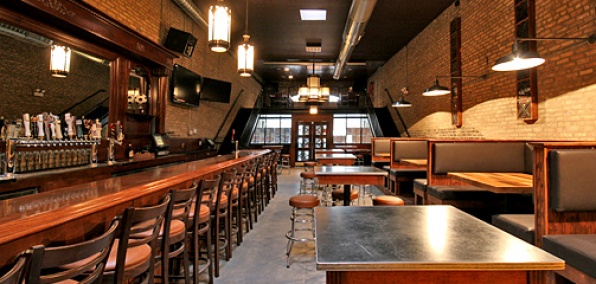 A part of you—way deep down—has always been a bit of a hustler.
First, maybe we should clarify. Not the Keanu Reeves-in-
My Own Private Idaho
kind of hustler. More like the Paul Newman-in-
The Hustler
kind of hustler. You know, the fun kind.
Suffice it to say you have a lot in common with the newest
Small Bar,
slated to open in the former Fullerton Avenue pool hall where Newman taught Cruise a thing or two on the set of
The Color of Money
. In a few days it begins life as your other favorite kind of hall: beer.
Those rickety billiards tables are gone—along with the drop ceilings, nicotine-stained overhead lamps and scent of cue chalk mingling with eau de cheap beer. It's been reborn as a polished, high-ceilinged spot, with pendant lights and stained glass salvaged from an old church, big booths, and a nook under the stairs with your own personal flat-screen.
As you sink into Small Bar's
sweet-smoky Bacon Jam burger
or the jalapeño-and-sriracha-laced
Hellfire,
and sample your way through 180 beers (from local Half Acre and Bells to exotics like Rauchbier, a smoked-malt brew with hints of bacon), you'll find yourself thinking that even Fast Eddie would approve of the change.
We mean the guy from
The Color of Money
, not the guy from the City Council.