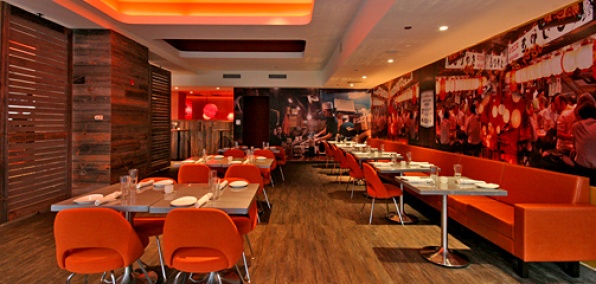 So, salaryman, here you are:

Bravely facing down another frigid Friday night in pursuit of some cozy retreat where your troubles quickly succumb to that first cold bottle of Japanese beer, hot carafe of sake or, if need be, giant pitcher of fiery wasabi-vodka martinis.

Tonight...need be.

So welcome to Izakaya Hapa, your new second-floor spot for after-work pick-me-ups, offering enough warm Asian hospitality to put feeling back in your toes—or, you know, wherever.

The name, in case your Japanese is rusty, is pronounced something like iz-a-KAI-ya and refers to the kind of bar where Tokyo businessmen throw down after a hard day. But Hapa is slang for something (or someone) that's a cultural mishmash.

So, yes, Izakaya Hapa may look a little like a Japanese sauna, with wooden planks everywhere (though, mercifully, no old men in towels). But as you and your friends start passing tapas-size plates of hamachi carpaccio, sesame calamari and crispy chicken wings, its international intentions will become clear. (Then, after a big pitcher of something called a Sake Mojito, they will become kind of fuzzy again.)

You'll also find small cast-iron cauldrons called Hot Pots, which arrive at your table bubbling with Japanese curries and even a sake-spiked version called Yaki Toban.

Booze soup. The ultimate winter comfort food.