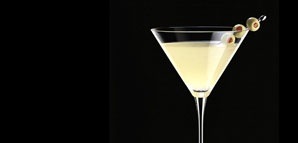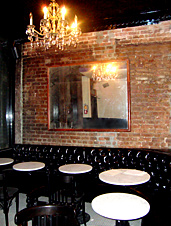 You've never been good with names.
Faces, sure. Cocktails, obviously. But names are just not in your strengths column.
So we think we may have stumbled onto a place that may feel well-suited...
It's called...actually, it's not called anything (for the moment, at least). And it's opening in a matter of hours.
Here's what you need to know: it's a bar opening on the hush-hush. It used to be a small, nondescript pizza shop. And it now deals in oysters and burgers and rock and roll. On top of a speakeasy. Rest easy knowing that the speakeasy,
Cabin Down Below
, is still alive and dealing in hipsters, loud music and strong cocktails. But in place of mozzarella and red sauce, upstairs you'll find exposed brick, tufted black leather banquettes, an old chandelier or two and just enough light to see Agyness Deyn sitting in the corner.
Brought to you by the same gents who've gathered the attractively pouty rock-and-roll scenesters at Bowery Electric and next-door East Village staple Niagara, you can expect the same upscale dive-bar feel, just with a few more bivalves, some intricate cocktails and a windowed smokers' patio that lets you keep your eye on the scene inside.
There's even a rumor that a piano may end up in the corner—you know, just in case you get inspired to perform.
That means you can leave your stand-up bass at home.