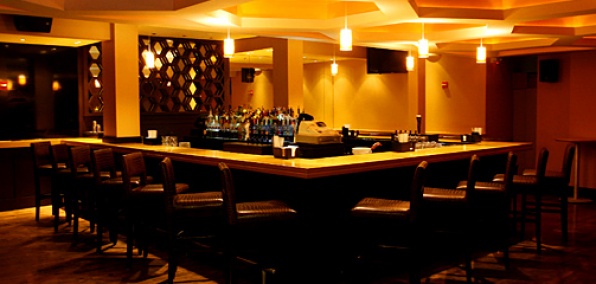 Ah, Brighton.
One of its lasting charms is that when you go out boozing there, you know exactly what your options are: Irish pubs, sports bars or the occasional PBR sidewalk soda.
But sometimes you'd rather just hit up a chill lounge, which entails cabbing it downtown. Until now, that is...
Presenting
Downstairs at Brighton Beer Garden,
making its triumphant grand opening tonight after testing out its martini legs for a few weeks now.
Longtime Brighton denizens will recall that before Brighton Beer Garden dominated Market Street as the go-to sports pub of the area, it was the Soho restaurant, and Soho actually had a downstairs. Long sealed off by the owners until they realized Brightonians rightly deserved a martini bar/dance space to call their own, the subterranean space has been thoroughly remodeled.
Step in here now and you'll find a DJ booth to supply tunes for the 190 people who can fit down here, wall-length oblong leather booth seating and a whole new lounge vibe to offset the flat-screens and sports screams upstairs.
Not totally abandoning its roots, the 18-seat bar also has plenty of beers on tap for you and your crew, while the new martini-heavy
cocktail menu
covers your entire fruity
White Grape, Key Lime
and
Black Cherry
martini needs.
Assuming one has such needs.