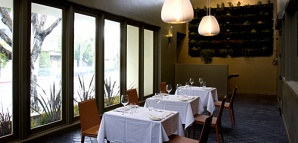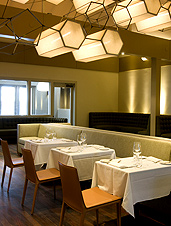 These days, just hanging on is an admirable feat.
But when a revered favorite is actually expanding, you know there's something special going on. Welcome to the bold new incarnation of
Hatfield's
, now taking dinner reservations for its Monday debut.
Formerly tucked into a sliver of a dining room where
Eva
now resides, the Michelin-starred Hatfield's has come out of hiding in a big way—with an open, airy, plant-life-y new Melrose space nearly twice the size of the original.
Take a seat under the large geometric lantern (it represents the chemical composition of honey...something you've always been curious about eating underneath) if you want a view of the open kitchen and your fellow diners. Or for more intimacy there's the conservatory at the front, with a living wall of air plants.
All your new-American favorites are here—the
Croque Madame
With Prosciutto and Hamachi
from Mr. Hatfield, the
Sugar and Spice Beignets
with chocolate fondue and a milkshake shot from the Mrs.—but with a kitchen larger than a shot glass, they can also now crank out tasting menus, a seasonal prix fixe and plenty of vegetarian-friendly items.
Perhaps most importantly, there's also room for a gleaming bar and lounge, with its own menu of
Braised Short Rib Reubens
and
Pork Belly Skewers With Maple-Vinegar Glaze,
to be ordered with a
Peruvian Cooler
(gin, Canton, Peruvian barley tea).
Don't worry, you can still see the honey chandelier.