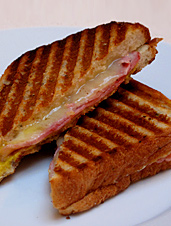 It's easy to get carried away.
Not that you object to the fruits of aggressive modernization—the iPad, the Slap Chop, the
Samurai Umbrella
.
But sometimes you just want to keep things simple. Especially when it comes to comfort food. Specifically, sandwiches. But really, more than sandwiches...
Introducing
Milk Truck,
a tiny food stand now serving what we're calling luxury grilled cheese sandwiches—and nothing but luxury grilled cheese sandwiches—at the Brooklyn Flea.
It's the grilled cheese version of the American success story: a guy obsessed with finding the best bread, cheese and butter set out to assemble those simple ingredients into something that might just ruin all other cheese-related food for you. Standing there watching your savory snack's assemblage on the handpress, you're about to enter a world fabricated entirely out of Vermont cheddar, Wisconsin Gruyère, Blue Ribbon Bakery white bread and cultured butter.
Unless, of course, your addiction to culinary ambition runs too deep, in which case they'll spice things up with champagne pickled onions, aioli and the requisite tomato soup dipping accompaniment (as they're required to do by law).
One last thing you should know: in a strange turn of events, the Milk Truck is not a truck. For now. In a few months, it'll be hitting the road in an actual truck, the old-fashioned type that used to make the milk delivery rounds.
Back when grilled cheese was simple...