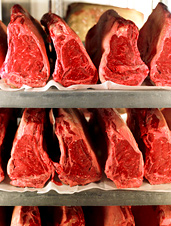 Lately, we've been hearing about a hot new kitchen turning out some of the best steaks in town.
It's called your place.
And good news: we've found you a new spot to start getting your raw materials. Introducing
McCall's Meat and Fish Co.
, scheduled to open Wednesday on Hillhurst.
This is the place to go when you're planning to impress somebody with a four-star dinner in your own quarters, and you need the right beef to make it happen. A cut of nice dry-aged rib eye, maybe. But they've also got Snake River Farms Berkshire pork, Colorado lamb, house-made sausage and whatever's especially fresh from the fish market downtown.
The pedigree here is strong—the place is solely manned by a married couple who've spent time in the kitchens at Sona, Café Pinot and NYC's Daniel. They've also got unusual oils, spices and pink salts, and they're not afraid to mix them in with some organic diced orange peel for a nice rub. A quick trip across the street for some sides from the
Deli at Little Dom's
, and you're all set.
Because when you're cooking, the less cooking you have to do, the better.