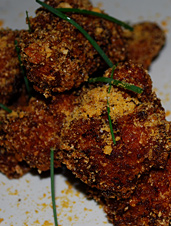 Combining two beloved foods in an unusual way tends to usher in a new world order, leaving one to question what life was like before its birth (see: Reese's peanut butter cups).
Taking this concept and applying it with unbridled moxie comes
Cap'n Crunch Fried Chicken,
the new brunch item now available at the Southie outpost of the Franklin Cafe, for all your breakfast-dinner-fusion needs.
The name isn't clever wordplay aimed at tricking you into thinking your childhood love of Cap'n Crunch and adult lust for all things fried is available, only to pull a switcheroo on you in the end. Friends, this really is tender cuts of juicy white-meat chicken breasts, dunked in a heavy buttermilk batter, rolled in flour with finely ground piles of the sugary, navy-themed cereal just before getting fried crispy brown and served to you sizzling hot.
And as no cereal-based dish would be complete without a little dairy, you can cool off the meat with a slathering of homemade buttermilk ranch dressing dip, served on the side.
Then again, you could just skip the dairy and choose to wash it all down with a Belgian beer from the bar.
Which also happens to be great for breakfast.