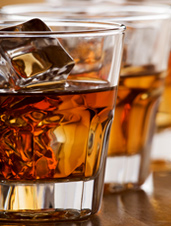 You've gone to great lengths in pursuit of that noblest of life's pleasures: the perfect drink.
Climbed mountains. Swam across lochs. Donned a kilt.
But sometimes it's easier to let the great and mysterious boozes of the world come to you.
Introducing the
The Whisky Explorers Club,
bringing the world's most exotic brown liquors to your doorstep, accepting members now.
Basically, it's an explorers club, but with boozing instead of mountaineering. Your fellow soldiers: a roving band of bloggers, poets and whisky writers who've consulted top distillers, hard-to-find history books and the occasional scotch-swilling uncle with a memory for long-lost boozes, in the name of finding the best and rarest drams. The payoff: six times a year, you'll get four bottles of liquid treasure—nothing more and nothing less.
To keep you from bringing any prejudices to the tasting table, each bottle will be presented to you blind—no labels, no clues—so it's on you to determine if there are hints of coriander or a bit of vanilla in the finish. (They're not being cruel; you'll be able to find out what you're drinking on the website if you so desire.) So you'll find yourself sampling something from a little Speyside distillery that no one outside of Scotland has heard of, or a single malt from Japan that you couldn't get without taking a business trip to Tokyo.
And then, later this year, they plan on launching a similar club for tequilas.
Also known as the scotch of Mexico.