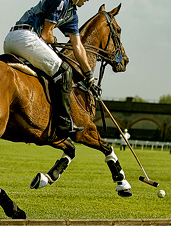 Not to be a buzzkill, but there are still two long months of knock-down, snowed-out winter to go.
But before you do anything drastic—the Bermuda Triangle Cougar Cruise, for instance—we'd like to suggest something...different.
Just remember to pack your riding pants.
Welcome to the
Barbados Polo Club,
a colonial sporting holdout dropped in the middle of a Caribbean paradise, taking amateur riders now.
In other words, it's a genuine horse-riding, mallet-swinging, rum-drinking polo club that just happens to welcome people without a manor and stable of their own. (We know: heathens.)
So when you find yourself in Barbados—and needing a break from the crushing grind of surf lessons and massages—acquaint yourself with a grizzled local pro named Jeff Evelyn, vice captain of the club and general gentleman-of-sport, to commission a few days of firsthand instruction.
He runs a polo beginner's course out of his massive backyard, complete with a stable full of horses on loan from a perpetually vacationing nobleman. (Paradise can be very exhausting.) You'll learn the basics—eyes on the ball, feet on the horse, that sort of thing—and then head to a former canefield called Holders Hill for an impromptu four-on-four mini-match. And if you need even stiffer competition, some of the best players in the world will be dropping by the island for the Barbados Polo Open in March.  
We predict a Cinderella story...