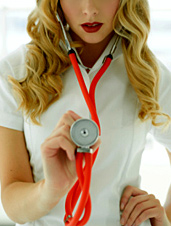 Ladies and gentlemen, the future is now.
You can play tennis with your TV. Your phone doubles as a video camera. And somewhere, at this very moment, someone is working on the next absinthe cheeseburger truffle.
And now, this:
ZocDoc
, a site that gets you into the doctor's with all the ease and comfort of getting a table for two at Gitane, launching Monday in San Francisco. (We'll admit that the doctor's office offers slightly less scenic views.)
In short, it's an OpenTable for doctor's appointments. So the next time you're sick (or just need someone to write you a genuine-looking excuse note for work), you'll log on and get a list of available doctors. You'll see credentials (obviously important) and user reviews (only slightly less so), along with a list of open appointments—one click and you can painlessly book as early as that day.
And in a key move, they have photos of every doctor in their database—so you can pick your doctor based on important things like hair color, smile and resemblance to Katherine Heigl. Because the site's in beta, they're still adding to their list of doctors, and more functionality (like searching by name) is coming—sadly there's no word on a "search by attractiveness" option for nurses.
But we're on it.