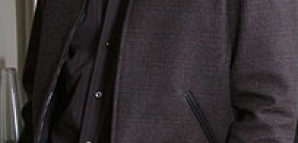 So many designers can't find the sweet spot between boring and over-the-top.

But in the metaphysical sense, you'll find parke & ronen, the new sister store to New York's Meatpacking District boutique, residing in just that space. (In the more literal sense, it's located near the big boys—Paul Smith, Marc Jacobs and Fred Segal—on Melrose.) And except for the swim trunks, which have been in Saks and Barneys, the clothing hasn't been anywhere in Los Angeles until now.

Inside the small, sparsely decorated shop, you'll find the label's slim-fitting button-downs, twill jackets and lightweight dress pants, all bearing a classic-with-a-twist vibe. (Turns out subtlety and leather piping aren't mutually exclusive.) If you're feeling bold, you'll be drawn to more statement-y wares like a gunmetal-gray dress shirt with French cuffs and a shock of color inside the collar. (We recommend waiting till happy hour to remove your tie and unleash the brightness within.)

You'll also want to check out the vintage silk one-of-a-kind ties, cashmere hoodies and sneakers from Medium. And, at least for a while, you'll find half the design duo, Ronen himself, minding the store. Quantities are limited, so he wants each piece to go to a good home (i.e., you)—and since the only mirror is outside the curtains, everyone gets appraised.

We guarantee you won't hear "boring" or "over-the-top."