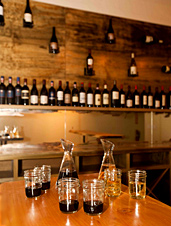 It's pretty indisputable: the world makes better sense after a drink or two.
We think this applies doubly for the world of art.
So the next time she mentions she'd like a little culture (and
Jersey Shore
isn't on) take her to
Heart
, a new wine bar/art gallery/bistro opening a week from today in an old mechanic's garage on Valencia.
Think of it as the booze-friendliest way to tackle art in the city, at least until the SFMOMA finally gets around to installing those taps you've been suggesting. When you walk in, your eyes will be drawn to the 18-foot walls, adorned with jutting wine bottles (consider them installation pieces), along with endless shelves of vino. Then you'll notice the actual art, which will rotate from sketches to photos and sculpture—though the opening exhibit is a hedonistic series of paintings called
Pleasure is all we seek
. (It's like they knew you were coming.)
Make your way to one of the communal tables, where you'll be served wine and beer in Mason jars. Small plates from the guys behind Kitchenette are there for the picking—like American tasso ham from Fatted Calf or duck fat potato chips.
Ah, the timeless art of the potato chip.