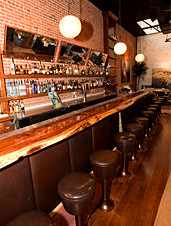 Moving's a pain in the neck.
Especially if you're being bumped for something like the new Transbay Terminal.
So while we'd take a 5pm whiskey neat over a seat on Caltrain any day, we have to give it to FiDi happy hour mainstay
John Colins
for handling its relocation with relative ease (and providing an opportunity to combine our 5pm whiskey with said seat on Caltrain).
Opening Thursday, John Colins has moved just two blocks over to Minna from its former Natoma Street locale, and the new spot has managed to maintain (if not upsize) its former happy hour glory. The new space seems like it was lifted from the old place, stretched out and set back down.
So you won't suffer the ills of relocation shock, the good people at Colins kept everything the same, from the koa-wood bar to the timeworn exposed brick walls. You'll still be able to watch surfer flicks projected on the front wall, relax in the upstairs mezzanine and check the angled mirrors to watch the scene's goings-on.
There's just more room overall—lounge-wise, bar-wise and drink-options-wise. Which are all good things.
As for SamTrans, WestCAT and Muni coming together at last, we'll leave that one up to you.