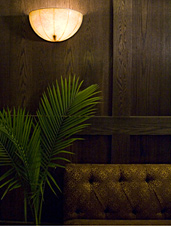 They say it takes two weeks to kick a habit.
So when we heard that one of San Francisco's last remaining smoking bars was calling it quits on New Year's and reopening mid-January as a strictly non-smoking cocktail club, we decided to slap on a patch in solidarity and wait.
Emerging on the other side was, fortunately, not a twitchy, irritable and overweight version of smoking joint Amber, but a cleaner, more sophisticated and (dare we say) more enjoyable fellow—named
The Residence,
unveiling itself tomorrow.
In true hard-core self-improvement mode, The Residence kept only the walls and the bartenders, and gutted everything inside. So instead of its former smoke-stained rec-room glory, you'll find vintage globe light fixtures, faux zebra-upholstered chairs and Persian rugs, all looking like what might be your eccentric, well-traveled great-uncle's penthouse parlor (minus the great-uncle).
Join what's sure to be a nice weekend scene by taking over a few cushy sofas by the fireplace with a date. Impress her with a few strong moves at the chess tables (we say go with the Sicilian Defense) while you enjoy the new, upgraded classic cocktail menu—a Sazerac, or perhaps the stiff, tequila-spiked
Jalisco en Fuego
.
If all this propriety makes you hanker for a quick drag, the outdoor sidewalk is always there.
We'll be waiting inside.