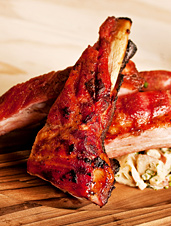 To recap:
You've chased down
cookie sandwiches
,
cheesy mac and rib melts
,
banh mi
and gravy-soaked
burgers
, with only a compass (and
Twitter
) as your guide.
But you'll really want to lace up tight for this one: finally, a Southern food truck is upon us.
Willoughby Road
is quietly rolling now.
This is your mobile home for ribs, grits, smoked meats, pulled pork—all the tastes of Grandma's kitchen. (If your grandma grew up in the Bible Belt and was really a phenomenal cook. To the point where you thought she should start her own food truck.)
But there's also a modern, international twist—the pulled-pork sandwiches have an Asian rub, the cheddar grits come with lemongrass shrimp and the brisket marinates in a spicy Moroccan harissa, arriving with a Thai cabbage slaw. You'll probably want to save room for the fried black-eyed peas, and cornbread made with creamed corn, bacon, thyme and honey. Catch them on a good day, and they'll toss you some crawfish beignets.
Tonight you'll find them on Sunset, near Amoeba and CNN. And you know the drill by now—check their
Twitter page
to stay abreast of all the pulled-pork happenings.
Well, most of the pulled-pork happenings.