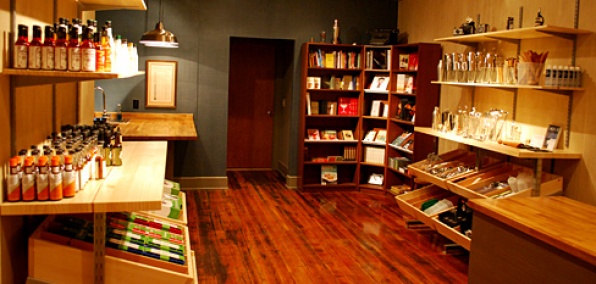 They say home is where the heart is. But we say it's where the well-stocked bar is.

And while arming it with every form of liquor is as easy as hitting up the nearest package store, finding all the necessary bar accoutrements has proved a more difficult task. Until now.

Say hello to The Boston Shaker, your new bartender's supply boutique, opening next Wednesday in Somerville's Davis Square.

Think of the Shaker as a miniature Home Depot for the would-be Sam Malone in you. This is where you'll go for those hard-to-find items that really make your home bar feel like a bar—authentic touches like maraschino cherries imported from Italy, wooden muddle sticks from New York, handmade canvas ice bags from Virginia and colonial-style syrups.

For history buffs—drinking history, that is—there are some interesting relics, like instructional bar manuals from the 1800s, plus your basic tins, jiggers and glassware if you're just starting out.

The shop is also something of a bitters bomb shelter—they've got over 30 types in stock, so you'll have plenty of ways to spice up your Manhattans and martinis for future houseguests. And starting next month, they'll be holding in-store drink tastings and even some cocktail-mixing courses led by local stars from Drink and Eastern Standard.

Here's hoping for homework.