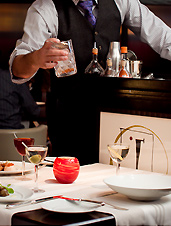 We believe it was Churchill who said, "Why stand when you can sit?"
In life, as in ordering a double martini.
The folks at Fifth Floor must have agreed when they decided to offer
Tableside Bar Service,
the city's first cocktail cart stocked with premium drink-making accoutrements and helmed by professional bartenders, rolling out tomorrow night and every night in Fifth Floor's lounge.
Breathing new life into the cocktail scene, the booze cart is a throwback to more civilized times, when everyone was called "sir" and the bar came to you (an ideal setup for ruffians like you).
Here, you won't have to jostle the crowds or hail the bartender's attention. You can sit back, beckon like a gentleman and watch as Jacques the barman arrives tableside with '50s-style wooden bar cart in tow. He'll shake a thoughtful collection of gin, bourbon, tequila or absinthe into your favorite classic cocktail and keep it cool with a single, perfect globe of ice spun from a copper ice maker.
Since the cart constantly maneuvers through the space, you're never far from a refresh. And this way, we suspect, your shirttails have a better chance of staying in order.
Hey, we said better chance.