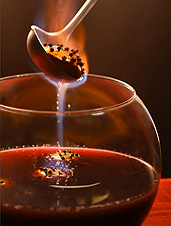 If you haven't noticed, we are currently plagued by the sort of steady freeze that leaves one susceptible to illness.
Which could cause you to eventually call out of work (not necessarily a bad thing) or miss out on some future drinking (definitely a bad thing). And that's why we're thinking you need your medicine and booze all in one.
Presenting
Rum Grog,
now being served at Dante's in Cambridge.
To taste what is perhaps the world's first cold-medicine cocktail, start by taking a seat at the bar and ordering up a Rum Grog, an off-the-menu gem that's new on the drinks list starting this week. Soon you'll watch as a bartender takes a mug of strong dark rum and pours it into a saucepan, along with some water and cold-defeating ingredients like whole cloves, organic honey and a few sticks of cinnamon. The potion is brought just under a full boil by way of a hot plate in front of you, before fresh lime juice is added, as well as some orange peel for zest. (Robitussin, it ain't.)
And you'll be happy to know that the drink is crafted with the same recipe that British Royal Navy ship captains used to keep their crew happy and healthy on cold winter voyages back in the 18th century.
Think of it as
Cocktail
meets
Master and Commander.