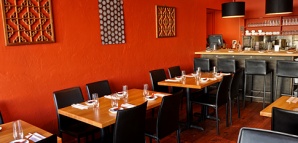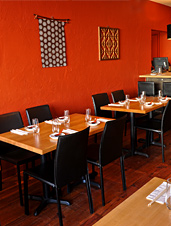 When combining stuff, it's all about the right mix.
China shop + bull-wrangling school = bad.
French + American + Chinese cuisine = good.
Which leads us to
East by Northeast
, the new house of Chinese-inspired small plates making its debut this Friday in Cambridge.
Brought to you by a French-trained chef who cut his teeth in celebrated local spots like Hungry Mother and T.W. Foods, the cozy 25-seat space will be perfect for you and a small crew if you're on the hunt for portly handmade Chinese dumplings in Cambridge, or you and a date if you're on the hunt for some local, gastro-centric dining.
They've made sure to stock the meat locker with whole Vermont pigs, which will be used like a porcine Pandora's box for everything from crispy pork belly to their cooked-to-optimal-juiciness
Roast Pork Loin with Porcini Mushrooms
.
Beer-wise, they've got micros (Porkslap Pale Ale, Mayflower), locals (Allagash from Maine, Smuttynose from Portsmouth, NH) and a German (Spaten) that will go down nicely with their authentic Chinese noodles, which are served in both hot and cold dishes (think smoked-pork-meatball noodle soup), made from scratch and hand-cut in the back of the house. There's a good chance eating them will make you never consider ramen again.
While sober, anyway.