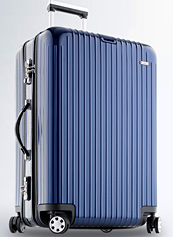 Not to boast, but—you're ready.
Shopping is done. The gifts…they're good. Flight is confirmed. You're all set.
All you need now is—oh, wait. Something to pack everything in. (Details, details.) Luckily, you are saved once again by some sleek German engineering—introducing
Rimowa
, set to open tomorrow on Rodeo Drive.
The German legend's first California shop stocks serious suitcases for your serious holiday trips—think lightweight design wrapped up in a gleaming hard case that'll protect the wine bottles, vodka bottles and whiskey bottles inside. Also: gifts.
And you've got a few to choose from. The gold-anodized aluminum shell of the
Topas Gold
ensures you'll know which one is yours at baggage claim, and the top-opening
Pilot
ensures easy access to everything within, even when it's stowed in the overhead compartment. It's the classic
Salsa Air
, though, that has been called the lightest hard-case luggage in the world. Basically, they're the BMWs of suitcases.
If you don't believe us, you should know Rimowa is the only luggage fine enough to show up in such iconic travel films as
Fred Claus
,
Mission: Impossible 3
and
Snakes on a Plane
.
Which reminds us: we think they're snake-proof, too.