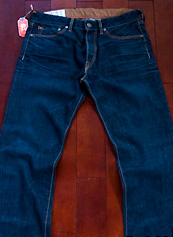 You like a bit of crazy now and then.
So when we heard about a denim designer so obsessed with craftsmanship that he went through gold mines to dig up the century-old jeans worn by the workers, we knew this was the guy you'd want cutting and sewing your next pair.
Namely Mike Hodis of
Rising Sun & Co. Jeans
, a cult label that crafts each pair of dungarees by hand in a three-man workshop in Pasadena, available exclusively at AB Fits.
When we say exclusively, we mean that only 18 pairs exist right now on the shelves. And when AB Fits sells one, the guys in Pasadena start making the next pair. Hodis designs all the jeans, which reflect authentic details of vintage workwear, and are crafted from his own custom fabric designed with one of the oldest denim factories in the country.
You'll also be glad to know that instead of working in a factory using automated machines, each pair is meticulously cut and sewn by hand by Mike himself and then put together by a select team of tailors using vintage black-top sewing machines, just like they did in the 1800s.
Making them perfect for ringing in 2010.