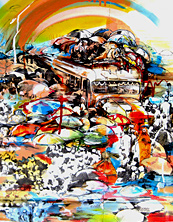 We're not saying you're afraid to commit.
Well, maybe we are. But we'd like to introduce a situation where, for once, your signature inability to obligate yourself is not only tolerated, but celebrated.
Allow us to present the
Art Taster's Circle
, a rent-before-you-buy gallery on demand, now accepting new members.
Let's say you're lounging around your apartment and thinking it could use something that gestures irreverently toward neo-classical faux-decadence. Ninety-nine dollars will summon an Art Taster's consultant to your place, bottle of wine in hand, so you can peruse their online catalog of 50 emerging artists from painting and photography to mixed media and sculpture. You pick your art, choose an installation date, and they bring it over and introduce it to your wall.
And then next week a cold front comes in and you feel the sudden need for a postmodern nude posing amid assorted dried fruits. You would call up your guy again, and he'd come over and see what he could do, or else show you the latest in blurry watercolor renderings of horses. You've always loved horses.
With each piece you don't commit to, you'll be doing your part to support a burgeoning artist. And the monthly fee goes toward your eventual purchase.
Because as we all know, sometimes what you think is a Mona Lisa turns out to be some Pollock wannabe with access to condiments.
Although we hear relish art will be
huge
in 2010.