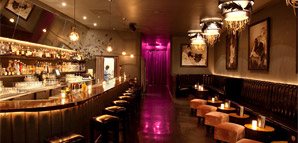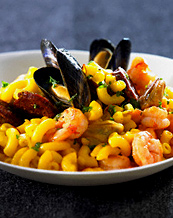 You've seen it—an enormous jumble of glass, right there across the street from the MGM. 
And you've been intrigued. Judging by the shape, you've been expecting something big, like a high temple to humankind's greatest achievements in the arts and sciences.
Or a good place to get a fish taco and a magnum of Krug.
Either way, really.
Introducing
Beso
and
Eve
, a restaurant-club duo imported from LA (with the help of one desperate housewife), serving dinner now with upstairs bottle service arriving December 30.
Nestled inside CityCenter (which is finally open after three-and-a-half short years of construction), the place is basically Tinseltown's Vegas branch—they actually imported the massive chandelier from last year's Oscars. (Think of it as the Sean Penn of giant lights.)
You'll recognize the Beso name and decor from power lunches at the spot's LA incarnation, and the highlights should be just like you remember them: hipsters and celebs drawn in by owner-mascot Eva Longoria and saffron-soaked paella whipped up by Todd English.
It's dinner-only for now, but as of the 30th, you'll be able to venture upstairs to Eve to check out the colossal video screens, enjoy the soothing sounds of the night's DJ and get an intimate look at any Kardashians who might be stopping by.
But for safety's sake, we'd keep your distance.