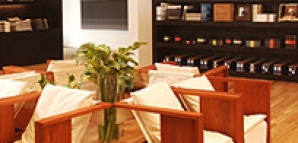 Sometimes you want style, sometimes you want comfort-though usually you want both at once. (so demanding.)

So you might want to point yourself toward the newly opened james perse flagship in Beverly Hills.

Inside the 5,000-square-foot superstore, you'll find clothes that aren't sold at the designer's other shops—or anywhere else for that matter—as well as items from his first foray into home goods. (It only makes sense that the maker of buttery-soft t-shirts would segue into buttery-soft bed sheets.)

In addition to those jersey-sheet sets, you'll notice art books on Bob Dylan and Ed Ruscha, and some seating to peruse the tomes. Once you remember what you came for, you'll move deeper into the store-past the koi-ponded courtyard-all the while sliding oversized teak shutter doors around to access the soft, wearable cotton-and-cashmere wardrobe staples (sweaters, pants) behind them.

When you think you've hit the end, just know that you haven't. Through the discreet doorways at the back (yes, the ones that look like emergency exits), another room awaits with robes, pajamas, v-necks designed for layering and heavy black acqua di parma candles.

Perfect to illuminate the path to those sheets.