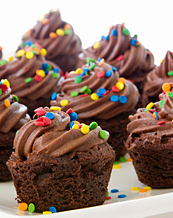 You love beer.
And while you may not love dessert as much, we thought you *might* want to know about a way to enjoy both at once, especially when it can arrive at your door.
Say hello to the
Guinness Cupcake
, one of many mind-blowing cupcakes you can have delivered to your door for the next four weeks courtesy of the new
Curly Cakes Delivery
.
So let's get a few things straight. After the New Year, chef Todd English will be opening up his first cupcake shop in Beacon Hill, to be called Curly Cakes. To prepare you for this, he's running a cupcake laboratory and delivery service out of his restaurant Olives for the next month. And the crown jewel of this pop-up bakery is, without a doubt (in our beer-loving opinion), the Guinness Cupcake: an off-the-menu achievement with Guinness Draught soaked into the batter and a frosting made with bourbon.
But fear not, sans-beer cupcake lovers: you'll also be happy to know there are
decadent nonalcoholic options
like the
Peppermint Stick
(white chocolate cake with peppermint extract and chocolate frosting) and something called the
Nutcracker "Sweet."
Delivery
covers a five-mile radius outside Boston proper (takes one to two days, depending on order size), or if you can't wait that long, come by Olives and pick them up yourself. Just keep in mind that there's a half-dozen minimum.
Or a six-pack, if you will.