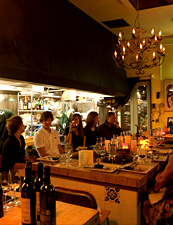 Fact is sometimes stranger than fiction.
Case in point: two guys arrive from Poland—one's a chef, the other the founder of Poland's first vodka lounge (already this sounds promising). They're here to fulfill the typical American dream—to cook private traveling dinner parties aboard their '57 Greyhound bus.
Till their bus gets rigged up, though, Daniel and Kai have launched the brick-and-mortar version of what they're calling
Free Range Dining?
, a private word-of-mouth dinner party that roves from spot to spot, currently hunkered down in the depths of a North Beach dive bar.
Every Thursday night the kitchen is converted to an eclectic dinner party of 15, with a guest list tossed together through word of mouth. You can reserve however many seats you like, but we recommend a smaller group so you can enjoy the company of strangers—anyone from
Top Chef
vets to Valerie Williams (Robin's ex), writers and ad execs, to random couples from Russia.
On the night of, you'll show up to the locale. Look for a back door that says "No Entry." Candles will light your path to a gleaming gourmet kitchen surprisingly unexpected in the back of a beer-slinging bar. From there, Kai will greet you with a glass of wine and chef Daniel will get you started with an amuse-bouche.
You'll gather with your new dining partners around the communal table within arm's reach of Daniel and watch as he roasts your grass-fed veal or cures pork belly. Then, long after the stoves have cooled, you'll linger over the remaining bottles of vino.
Consider it all a warm-up for the bus.