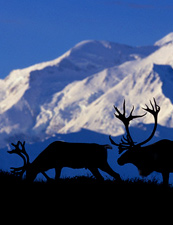 The holidays can mean a lot of things: chestnuts roasting on an open fire, dreidels spinning by eight open fires or a nine-day trek through eastern Russia, propelled by a pack of reindeer (possibly near an open fire).
We're guessing you're already familiar with the first two.
Welcome to
Reindeer Sledding in Eastern Russia
, the most physically demanding holiday celebration outside the Polar Bear Club, taking reservations now.
In short, it's a tour of some of the most barren terrain on earth, guided by the likes of Donner and Blitzen. (Good ol' Blitzen.) You'll start out in Yakutsk (average December temperature: 40 below), where you'll pick up what you need to survive the godforsaken climate—specifically furs, felt boots and a suitably funny-looking hat.
Then you'll jet (i.e., bus) off to a series of increasingly Spartan accommodations (a hotel, a cabin, a tent with a stove) before coming face-to-face with the near-mythical beast who will be steering you through the tundra. The guides will set you up with a sled and two strong-willed reindeer, and you'll cover the next 35 miles over two days, racing through the snow the way Santa intended—with only a quick break in between to sleep, eat and give your drivers time to catch their breath.
Don't let Dasher make a break for the pole.