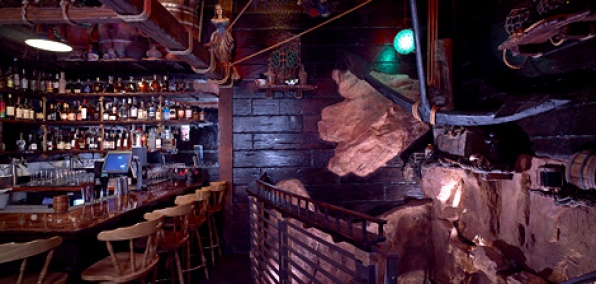 Holiday season is in full swing. And while you love all the eggnog and mistletoe, sometimes what you really need is a tiki hut and a rum-spewing volcano.

Thank goodness, then, for Smuggler's Cove, a new rum-soaked watering hole that takes the best of a Polynesian tiki hut and a Caribbean beach bar and wraps it all into one festive kitschy joint in the heart of the city, opening Tuesday in Hayes Valley.

Step inside this three-storied island megaplex that feels like Pirates of the Caribbean on steroids—a two-story waterfall runs down the main wall and rum barrels and tiki totems abound, along with hanging blowfish and hatchets on the walls (rum and hatchets—perfect together).

And this place takes its drinks seriously—seriously enough to get you through this place. At the helm is Martin Cate (Forbidden Island, Trader Vic's)—if there were ever such a thing as a missionary of rum, he would be it. There's a list of roughly 200 rums that Martin has secured on his travels from all over the world, from Peru to Martinique.

From those, he's crafted over 80 rum-focused cocktails, but the one to try is the bowl of Top Notch Volcano Punch served in a lava-spewing mountain. Yes, we just said rum served in a lava-spewing mountain.

As the pirates say, never to trust a man who doesn't like his drinks to spew from a volcano.