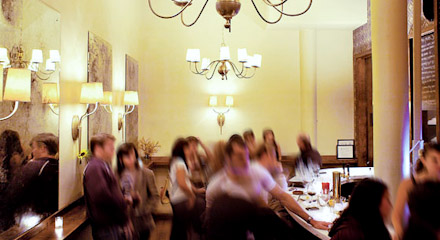 Your basic Spanish is fine. But you've never been one to stop at fine.
And so, in the interest of expanding your
vocabulario
, we present:
El Quinto Pino
, officially opening this evening.
Named for a Spanish expression meaning "the middle of nowhere," El Quinto Pino is the kind of neighborhood tapas bar you'd find in Madrid: hole-in-the-wall-y, all stools, no tables, mosaic tiles and chalkboard menus. (You get the feeling Chef Alex Raij (Tia Pol) cares about delivering rare delicious bites, great drinks and nothing more.) After taking a quick sampling of the menu—which is entirely in Spanish—we drew up a list of the words you'd be wise to pronounce most often:
Berenjena con Miel.
Like so many unexpected combinations (Sonny & Cher,
foie gras and donuts
), this pairing of fried eggplant with honey leads to deliciously light and crispy results.
Ensalada de Oreja.
Literally "Ear Salad," it's braised pig ear mixed with a cauliflower, onion and carrot salad.
Serranita.
A hard-pressed sandwich, the Serrano ham is ingeniously stacked atop its own fat (one layer ham, one layer fat) so that when compacted, everything melts together into unified, tasty gooeyness.
El Quinto Royale.
It's like a Kir Royale, except instead of champagne and blackcurrant liquor, it uses cava and blueberry liquor. We're fairly certain it will help inspire romance (and the courage to consume ear salad).
And remember: Practice makes perfect.