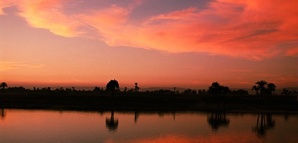 Your travel motto can be summed up as follows: If a place is worth seeing, it's even more worth seeing through the floor-to-ceiling windows of your just-launched luxury liner.

Next stop: the Nile.

The Oberoi Zahra casts off on October 2nd as the hottest ship under the Egyptian sun. With only 27 spacious, panoramic-view suites, the Zahra is like a boutique hotel sailing down the Nile. Its five decks hold a four-suite Banyan Tree spa, a landscaped pool and the river's only floating cigar lounge (lest your midnight Cuban craving go unfulfilled). If you're feeling Pharoah-level-indulgent, spring for a 645-square-foot Grand Suite (the largest on the Nile) and watch Egypt pass by from the Jacuzzi on your private terrace.

But the real perks come onshore, with private moorings at each port of call. Free of any dock-blocking rival cruisers, you'll hop right into a luxury sedan and be escorted by a certified Egyptologist through the Botanic Gardens, royal tombs and Valley of the Kings—and you'll get back onboard in time for a gourmet dinner, a stargaze with the resident astronomer and, of course, your date with the masseuse.

Who said you can't teach an old river new tricks.