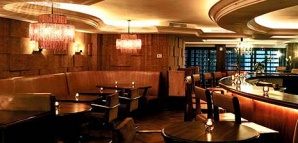 Sometimes you want a simple meal in a casual environment.

Other times, you want to be swept away to a magical, Oz-like kingdom one filled with leather-topped tables, seven-story atriums, two-story wine racks and all the napkin rings you and your utensils could ever want.

The name of this second realm: Grayz, opening for dinner on Monday.

Occupying the lowest two levels of a townhouse once lived in by the Rockefellers, Grayz is more or less modern-dining's equivalent of the Willy Wonka factory. After entering through a door underneath a flight of stairs, you'll have roughly six locations to choose from, excluding bathrooms and 19th-century-exposed-brick stairwells: the mammoth-and-curvy oak bar (for your people-watching pleasure), the fireside chef's-table section (for your Chef Gray Kunz-watching pleasure), the "Onyx" private dining room, the downstairs speakeasy (for easy-speaking/lunch) and, most impressive of all, the soaring 72-seat atrium which will make your lavish dinners feel like they're occurring outside, instead of in a greenery-lined bio-haven.

And wherever you settle, you'll have access to high-end finger food like Oysters Rockefeller and Chestnut Cavatelli, and cocktails like the Kunz-a-Libre (lime wedges muddled with brown sugar, dark rum, Angostino Bitters and soda).

When it's time to leave, just follow the exposed-brick road.