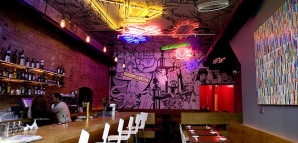 Lately you've been feeling like your dining ambiance could use a little more, you know, Hello Kitty-style Japanimation-inspired comics.

Our prescription: the much-buzzed-about Tokyo Bar, which opened Monday in Tribeca.

At Tokyo Bar—the first Japanese comfort-food café to hit Manhattan—you'll feel like you've stepped inside a Japanese comic strip (sort of like that A-ha "Take On Me" video, plus Speed Racer).

Once you've savored the initial rush, you'll want to settle into a leather booth near the back, pull your head away from the big, Sailor Moon-esque comics decorating the walls and ceiling and focus your attention on the menu, which offers Tokyo's equivalent of mashed potatoes and mac & cheese—home-cooked favorites like omelets stuffed with seasoned rice and covered with homemade gravy, spaghetti with berkshire pork and ketchup, and fried chicken with hot chile sauce. (There's actually no sushi or teriyaki to be found.)

And the comfort food becomes significantly more comfortable with cocktails like One-Cup Ozeki (a popular vending-machine sake), the off-the-menu Shochu and Orange Juice (Japanese screwdriver) and, for a non-alcoholic refresher, Safe Sex on the Beach (pineapple, cranberry and peach juice).

Sex and comic books—this place really is groundbreaking.