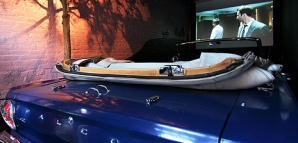 For decades, while the rest of the country enjoyed the cinematic and romantic fruits of the drive-in movie, New York, with its finite real estate, had to sit idly by, forced to walk into its theaters, and view its films through the absence of a windshield.
Not anymore. (Or at least not till November.) Presenting:
DRV-IN
, new on the LES.
The brainchild of Hall and Ben Smyth, the Canadian set designers who brought you
PONG
, DRV-IN is a one-car drive-in movie theater available for the next 40 days. (It's also Manhattan's only drive-in of any size.) Inside a 1965 Ford Falcon convertible, you'll watch one of the classic films of the last 50 years, along with popcorn, bottled water and anything else you can tactfully sneak in. (Translation: Break out the Jujubes flask.) The reservation process is simple: Go to the
website
, book the night and time you want, close the deal with the magic of 
eBay
and email the management with your movie preference. Cost, including a DVD: $75.
And while the Falcon seats six comfortably (thanks, 1960s American engineering), we see this as more of a fresh date-night concept. Picture it: you, her, a backseat full of plush red leather and nobody else around.
Buckle up.