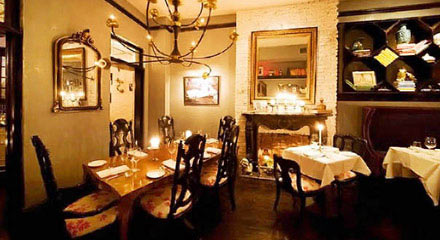 You've seen a lot. You're jaded.

But believe us when we tell you we've discovered a place that could restore your faith in humanity...or at least in its ability to produce remarkable new places. We're talking about Bobo.

Opening this week, Bobo—named for the bourgeois bohemian crowd (not the clown)—is a subterranean bar/restaurant/lounge/garden that feels like none of these, but rather your wealthy and eccentric uncle's townhouse.

From the sidewalk outside a sign-less three-story brownstone, you'll enter through a basement door (watch your head) into a large underground bar. In the back, past an old organ and possibly a cocktail cart, you'll find an astonishing little waiting area, with an antique Singer sewing machine and a window into chef Nicolas Cantrel's Euro-fresh kitchen.

Upstairs in the regal dining parlor, you'll want to grab the lengthy blue velvet banquette near the windows—where you'll throw your next big and boozy dinner party—all the while admiring plenty of brass sconces, old photos of owner Carlos Suarez's family, ornate mirrors and thick candles.

After dessert, head past a second bar and out onto the back patio, complete with a white paint-chipped trellis, antique daybed, lemon tree and room for 30. It might be the best new spot in the city for an after-dinner smoke and glass of wine.

We're hoping it doesn't turn into a circus.