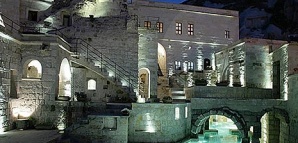 On your next vacation, you could tour one of the world's natural wonders—or you could get a room inside.

As you may have guessed, we recommend the latter.

The volcanically sculpted expanses of central Turkey's Cappadocia are famous for their bizarre hollow mountains, the oddly-but-accurately-dubbed "fairy chimneys" that played home to early monasteries and ancient underground cities. But enough National Geographic—if you're looking to experience the stunning scenery in a slightly more indulgent manner, Anatolian Houses is your destination: a new ultra-luxe hotel carved right into the caves.

Opened just last year, this resort is the ultimate in high-end hibernation. Since it's hollowed out of five neighboring mountains, you're actually sleeping under domes of volcanic rock (bringing new meaning to the term lava bed). Each of the 19 suites is unique not only in stalactite formation, but décor—decked out with hand-woven Turkish tapestries, ancient Cappadocian art and canopy beds (along with the LCD screens and Jacuzzis that any good cave should have).

Though you could wander through the preserved underground cities or take in a few wall frescoes, you'd probably rather hot-air balloon over the crazy terrain—or just explore your luxe labyrinth, and make the most of the underground spa, reputed Turkish restaurant, courtyard wine fountain and your totally secluded cavern.

Just thank Mother Nature.