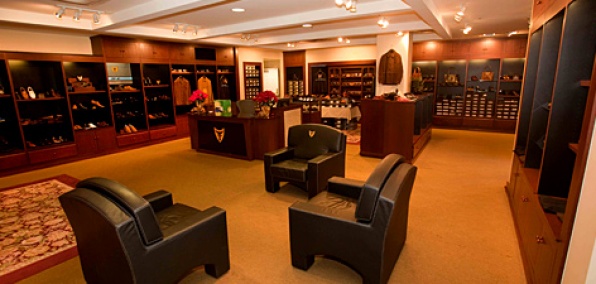 We're not saying that the shoes make the man, exactly.
But we've always believed that with a good pair, you can get away with a little more.
So we thought you'd want to know that the cobbler to celebs like Michael Jordan and Jack Nicholson has opened up his very first brick-and-mortar store, right here in Embarcadero One.
Introducing the
Michael Toschi Pop-Up Store
, housing his entire collection of meticulously handcrafted Italian shoes, belts and jackets.
Look for the red Ducati in the corner window two doors down from
On the Fly
. The store is reminiscent of a luxe boutique you'd find off a side street in Rome, and inside you'll easily find a shoe for every need in your multifaceted life. There are classic wingtips and lace-ups for business-making, slip-ons for lounge-making and track shoes for lovemaking (really—it's the traction).
For kicking around on the weekends, check out the
London
boot, which Tom Cruise wore in
Minority Report
. And if you thought you'd never find appropriate footwear for your office combo drag show/holiday party, you've been proven wrong by the lapis-blue soled split-toe
Berta
(any man who will name a shoe "Berta" is okay by us).
You'll also want to check out his cult-following golf shoes—MJ owns one of every pair, and Jack is a fan.
The traction isn't bad on those, either.