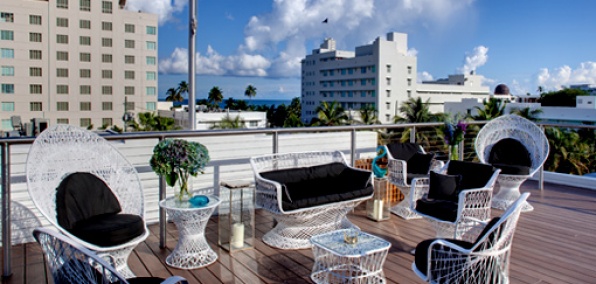 Happy hour is good.
Happy hour outside on a roof surrounded by beautiful women, the ocean and chilled caviar is better.
So today we're pleased to bring you
The Roof at the Webster
, your new go-to for alfresco lounging and post-work drinks, open now.
Think of this third-story lounge as a break from the madness of South Beach, with a glittering deco skyline and lots of other ways to help you forget your workday.
You'll enter on the ground floor of the Webster boutique, but instead of ducking into Caviar Kaspia, take the elevator to the top and prepare to be ensconced in 1940s-era refinement—from cushioned white wicker couches to turquoise flamingos and lush foliage, the place feels like the private rooftop of an eccentric mid-century millionaire.
Happy hour starts promptly at 4pm
, with cocktails like the
Kaspiarinha
(the Russian version of a caipirinha) and beers like France's 1664 available for $8 (a very good rooftop-beverage-to-dollar ratio). If you're hungry, there are snacks like the
Croque Mademoiselle
(Norwegian smoked salmon and Swiss on brioche, topped with a poached egg) for $10, although if you opt for the Imperial Baeri Caviar upgrade, make that $25.
The place stays open until 1am, and this week you'll probably catch art-world stars like Jeff Koons stopping by.
Koons knows a good roof deck when he sees one.