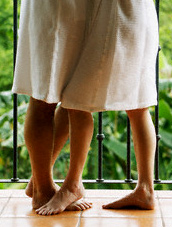 Parties. Shopping. More parties.
December can wear down even the most seasoned yuletide spirit.
If only there was something that relaxed the body
and
streamlined your holiday gift-giving duties. And maybe also involved bamboo spears.
Introducing the December-only
Beat
the Holidays
massage package at Spa Christine in Southie, mixing equal parts rubdown, Chinese torture and a little shopping.
The new 60-minute massage begins as all good semi-masochistic massages should: with large, heated bamboo spears being rolled over your naked body from head to toe. Next, smaller, handheld bamboo sticks are kneaded into the muscles the larger bamboo spears failed to hit. And the finishing move comes in the form of Chinese "bongers"—light rods with dense stress balls attached at the ends—which will beat you like a gong until toxins have no choice but to peace-out from your body.
Assuming you survive all this (and most do), you'll have the option of a little mental-stress relief with a personal shopper next door, who has agreed to provide you with 30 minutes of gift guidance over a glass of champagne.
We recommend champagne to simply going home and weeping.
Note:
$95 at <a target="_blank" href="http://www.spachristine.com/">Spa Christine</a>, available December 1-31, appt required, RSVP at 617-269-0019<br /> <br /> <strong>UD HOOKUP:</strong> Mention UD when booking and take $15 off the package.