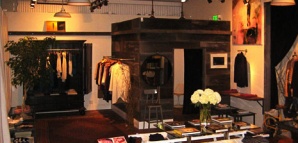 Clothes may make the man, but a good story makes the clothes.

After you regale your friends with eloquent tales of your road trip to Newport Beach's new Trovata shop, you can keep them enthralled with the story behind the store itself, the first retail incarnation of a label that's made it into the closets of everyone from the Shins to the Beckhams.

There's the earnest tale about the label's early days, when founder John Whitledge had his dorm room, a bunch of FedEx boxes addressed to Barneys…and a dream. From those humble beginnings (and with the addition of three partners), Trovata became one of the most buzzed-about brands of the decade. When the friends had a falling out, critics feared for the future of the line, but, as they say, the brand played on, and Whitledge ended up helming Trovata solo.

When your stirring narrative turns to the store, mention its location in an old shipyard, and the hangout tent behind the main room with a couch and projection screen showing surfer flicks. For color, riff on the random objects littered about—a vintage Rolex, fresh flowers, a Super 8 camera. (The store will even handle film processing.) Then you can freely expound upon the extremely wearable T-shirts, coats, sweaters and parkas with knit collars you scooped up, because they'll frequently invite "Where did you get that?" questions.

Luckily, you've always had a way with words.