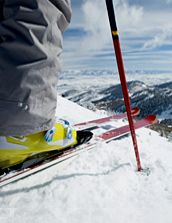 You were never one for rules—you cut lines, eschew traffic signals, and have been known to use a salad fork with your entrée.
And with winter arriving, your skiing will not be limited by those inconvenient boundaries of man-carved slopes and mechanical lifts.
Here to help: the new
Backcountry Adventure Center
, a slopeside outfitter setting you up with all the techniques and gear you'll need to ski off-slope and into the untamed wilderness, opening at Sugar Bowl on Wednesday.
If you've considered going off piste, you've heard of Alpine Skills International in Truckee and its fearless leader Bela Vadasz (the first American to summit the longest Alpine route and to free-heel ski down Denali). This school is one and the same. Only now it's located in the heart of the resort, so you can take advantage of more skills clinics (including: navigation, steeps, avalanche survival) and convenient equipment rentals—all from its prime on-mountain locale with easy access to the backcountry.
From the Center, you could go out all day, split boarding uphill (chairlifts are for the weak) and then barreling down virgin powder where no man has gone before.
There's also a weekend-long tour where you traverse from hut to hut in terrain that makes black diamonds look like bunny slopes, or the 18-mile Sugar Bowl to Squaw route that is not for the faint of heart—and which should earn you a few bragging rights over a beer, or 10.
We think you deserve 10.