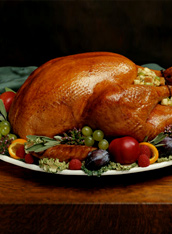 Thanksgiving.
A day to unwind and reflect on life's myriad gifts: the five-hour happy hour,
10-handed massages
, the sleep-inducing combination of tryptophan and Joe Buck…
And as of now, it's a time to take a 20-pound Vermont turkey, inject it with a half-gallon of 100-proof vodka and serve it up on Turkey Day with a vodka-gravy cocktail.
Introducing
O'Casey's 100-Proof Turkey Dinner
, now taking reservations for your delinquent, rogue Thanksgiving in Midtown.
We're not suggesting you abscond from your usual holiday brood to get sauced on turkey... Actually, yes we are. The whole affair unfolds a lot like the first Thanksgiving—if Russian mobsters showed up on powerboats and strong-armed the Indians at Plymouth. O'Casey's chef is drowning the turkeys every six hours, using flavored vodkas, for three full days. Once the turkey approaches the saturation level of Lindsay Lohan at
Avenue
, he'll slow roast it for five hours, before collecting the gravy and mixing it with—that's right—vodka.
The idea came about 15 years ago, at the behest of the owner's visiting Irish mother, who noted a glaring absence of booze in American turkey. And just like a doting mom, O'Casey's has an in-house driver tasked with taking you home in your turkey-vodka haze.
Think of it as the perfect start to Black Friday.