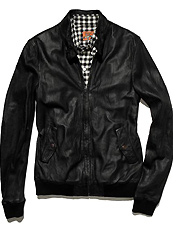 When you really fall hard, the object of your affection can do no wrong.
Even if they get a little carried away with the exclamation points.
With that in mind, today we'd like to tell you that Band of Outsiders, your favorite go-to line for impeccable modern classics, has gone and produced a limited-edition collection you'll want to investigate immediately—even if it's called
No Bunk! No Junk!
It's now available in Beverly Hills.
Think of this as a way to add a bit of dapper Americana to your office days and out-of-office nights, whether you're on a motorcycle or at a premiere. (Or on a motorcycle on your way to a premiere.) There's a crisp tuxedo shirt with black piping, a perfect plaid button-down and a badass leather jacket, slim and immaculate. And the black suit made of corduroy has arrived just in time for your screening of the corduroy-suited
Fantastic Mr. Fox
.
About the only thing missing is color—everything here is black and white. The good thing about that: it all goes together.
And since it's the product of an exclusive collaboration between Band of Outsiders and Barneys, you can only find it at the Beverly Hills megastore.
Period.