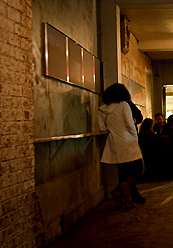 Secrets—keeping them, leaking them—are currency in this town.
From whip counts to earmarks to…new boozy hideouts for one-on-one lobbying, information is power. And we've got a little info for you:
The Passenger
, the first-ever joint venture by brothers Derek (The Gibson) and Tom (formerly of Cork) Brown, is set to open tonight.
We got a sneak peek last night, so we're here to tell you what to expect from the Iggy Pop–inspired, rough-and-ready watering hole, by the numbers...
Beers on tap:
4

Beers in cans:
15
Beers in cans with Porkslap in their name:
1

Number of cocktails on the menu:
2
Number of cocktails on the menu called the
Sherry Flip
that come in a pitcher:
1
Dim light fixtures:
11

Dark corners for aforementioned one-on-one lobbying:
7

Naked light bulbs hanging from the ceiling by wires:
1

Naked women hanging from the ceiling by wires:
0 (yet)
Approximate date of the wood floors:
1890

Tiny holes in said floor that look down to the basement:
12
Number of legislative aides you could host at the best seats in the house, the booths in the front windows:
8
Hot dogs on the menu:
2

Hot dogs on the menu topped with kimchi:
1

Posted opening time:
5pm

Actual opening time:
4:45pm
Stages at the back of the bar:
1

Yet-unnamed plays expected to be shown later this year:
1

Likelihood that a stage actress from the mystery play will share a
Sherry Flip
with you:
79.6%