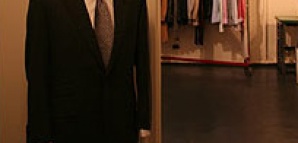 We've been over this: You're a handsome devil.

But even your dashing good looks could be enhanced by the right suit, one that perfectly fits you and you alone (your stunt double can do his own shopping). Our suggestion: Hunt down the new headquarters of Michael Andrews Bespoke, officially opening this Saturday.

Behind an unmarked gate on a quiet block on the LES, down a serpentine path that leads to a basement, you'll find a tailor's fitting room and workshop, appointed with fabric shears, old tailor's irons and, to remind you that you're still in 2007, a flat screen. This is where you can secure a custom suit crafted by the legendarily precise tailors of Hong Kong for less than a plane ticket there (we love globalization).

Over a glass of wine, you'll sit down with a sartorial expert, discuss your style preferences, choose a fabric from brands like Dormeuil, Wain Shiell, Zegna, John Foster and Versace and select the cut and details that will become your suit. After your measurements are taken, your numbers/instructions will be sent eastward, and, six weeks and a final fitting later, your new suit will arrive with all the custom touches: working buttonholes on the sleeves, hand-stitching and, naturally, a personalized name embroidered on the inside.

You could even have it say "Devil," though we would consider that crass.